Vacuum Belt Dryer For Liquid & Paste
Continuous vacuum belt dryer for efficient, gentle drying of concentrates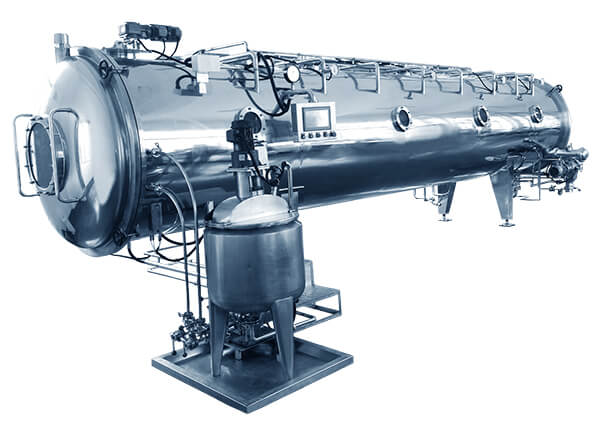 Vacuum belt dryer is continuous infeed and discharge vacuum drying equipment. Liquid product is conveyed into dryer body by infeed pump, evenly spread on belts by distribution device. Under high vacuum, the boiling point of the liquid is lowered; water in the liquid material is evaporated. Belts move on the heating plates evenly. Steam, hot water, hot oil can be used as heating media. With the moving of the belts, the product goes through from the beginning evaporating, drying, and cooling to discharging in the end. The temperature decreases through this process, and can be adjusted for different products. Special vacuum crusher is equipped at the discharge end to produce different size end product. The dry powder or granule product can be automatically packed or continue with subsequent process.
Vacuum belt dryer turn traditional static drying to vacuum dynamic drying, reduce drying time from 10-20 hours to 30-60 minutes. In vacuum belt dryer, the drying temperature is adjustable for different products. It solves the high temperature problem with spray dryer and denaturation problem due to long drying time with traditional drying oven. Colors, solubility, ingredients preservation of the dry product from vacuum belt dryer are incomparable.
Vacuum Belt Dryer Videos :
Range of application:
| 1. Fruit juice concentrates | 2. Hydrolyzed vegetable proteins(HVP) | 3.Egg Liquid | 4. Milk and yogurt |
| --- | --- | --- | --- |
| 5. Malt drinks | 6. Instant coffee and instant tea | 7. Plant extracts | 8. Pharmaceutical products |
| 9. Chemical products | 10. Flowability of liquid | | |
Advantage:
▪ Bespoke engineered continuous drying solution to fit your requirements
▪ Continuous and gentle drying preserving maximum colour, flavour and composition, and minimal oxidation
▪ Individual temperature zones allow for product-specific profiles to be developed suited to each perfectly to each product
▪ Less energy used than other drying methods
▪ Viewing windows as standard allow for continuous monitoring, with options for automated monitoring systems available
▪ Product specific feeding and discharging systems
▪ Fully PLC automated operation & CIP cleaning system
▪ GMP standards
Vacuum Belt Dryer Work Flow :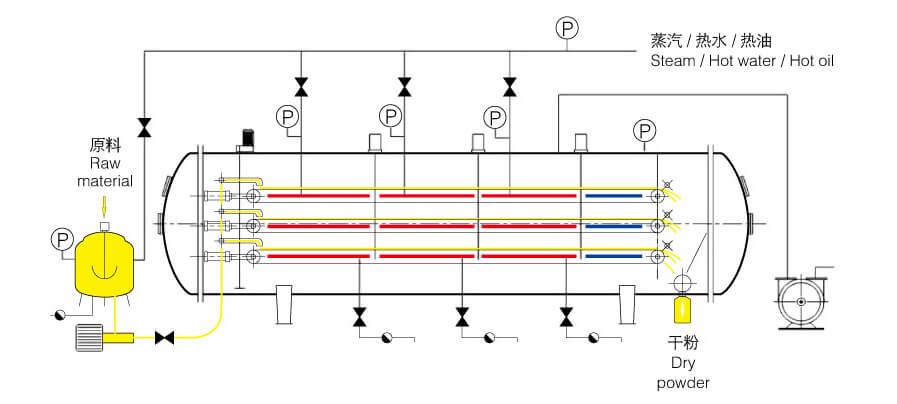 Equipment Specification
Model
Diameter
Length
Height
Heating area
Heating temperature
Moisture content of feeding material
Moisture content of dried product
Heating

resource

Water Evaporation
Dryer body

power

mm
mm
mm
㎡
℃
%
%
kg/h
kw
MJY30-4
1700
9800
2700
30
30-150
20-80
0.2-5
Steam or Hot water or

Hot oil

15-25
10.00
MJY60-6
2200
10800
3650
60
45-55
14.00
MJY80-6
2200
13500
3650
80
60-75
14.50
MJY100-6
2200
16100
3650
100
80-90
15.50
MJY120-7
2200
16100
3650
120
100-110
16.50
MJY160-8
2800
17300
4100
160
120-140
18.50
MJY200-10
2800
17300
4150
200
160-180
25.50
If the solvent of raw material is organic (ethanol, acetone, methanol etc.),evaporation capacity would rise. Evaporation capacity is closely related with drying temperature.
Production Process :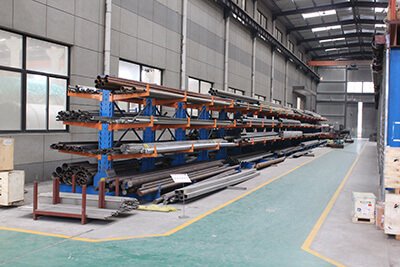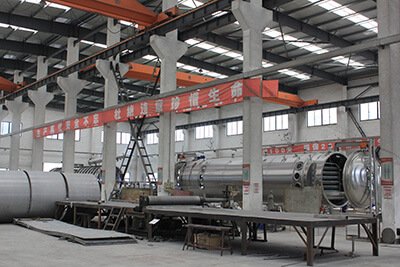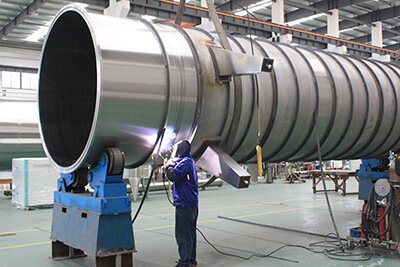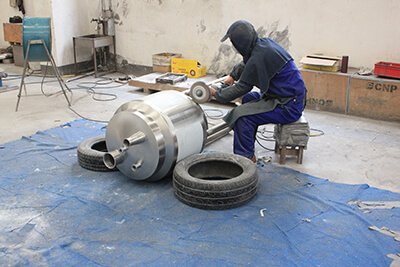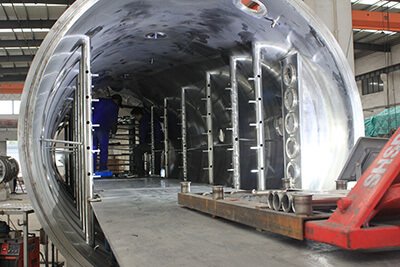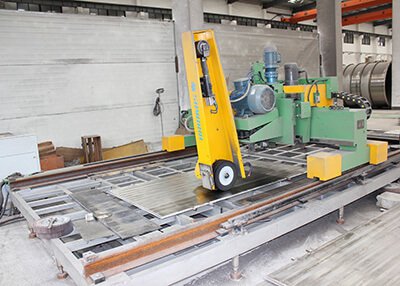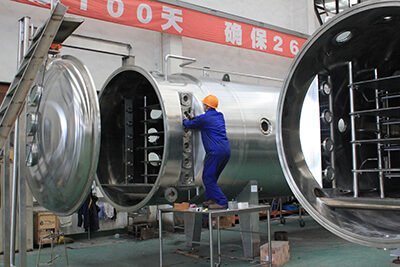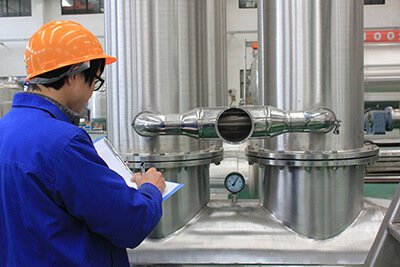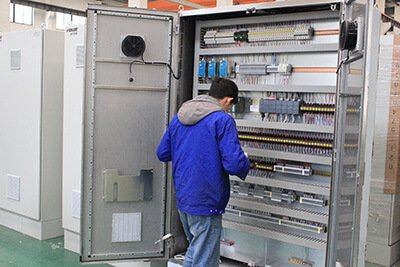 9. Electrical control cabinet assembling commissioning inspecting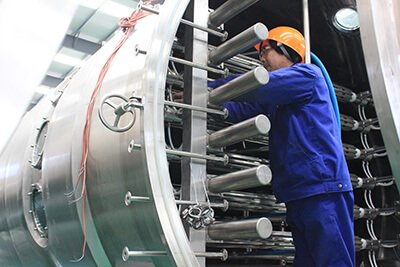 10. Pneumatic control cabinet assembling commissioning inspecting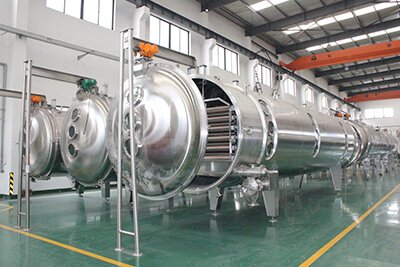 A company specialized in research, manufacturing, sales of pharmaceutical, foodstuff, chemical and biotechnology machinery.
The

first

factory in China to produce Vacuum Belt Dryer(VBD)
Developed the

first

set of Energy-saving Evaporator in China

20

years experience in VBD and Evaporator Solution production line
Rich experience in overseas export and service (over

500

cooperative partners)
Win large market (over

600

sets Minjie series VBD around the world)
Supply ability is more than

100

sets VBD per year
Has a professional technical R&D team,specialized in researching and developing advanced evaporator and drying equipment
Own many patents and authentication certificates for VBD and Evaporator
Excellent quality of the products
GMP standards
Technical support After-sales Service Provided (Installation instructions, Commissioning, Training)
Could I have some information about your scope of business?
MinJieAdmin
2020-02-19T13:39:00+00:00
Answer:  Minjie engages in research, manufacturing and sales of advanced drying equipment (vacuum belt dryer & thin-layer drying system), low temperature vacuum evaporator and sterilization equipment.
Utility supplied by buyer
MinJieAdmin
2020-02-19T13:41:47+00:00
Answer: Steam, industrial electricity, water, compressed air.
What is the cleaning way of equipment?
MinJieAdmin
2020-02-19T13:42:13+00:00
Answer: CIP cleaning system, automatically and continuously.
What is the after-sales service type?
MinJieAdmin
2020-02-19T13:42:43+00:00
Answer: 24-hour service hotline is available. Engineers onsite to guide installation, commissioning and training.
What is the delivery time?
MinJieAdmin
2020-02-19T13:43:12+00:00
How to ship the equipment?
MinJieAdmin
2020-02-19T13:43:38+00:00
Answer: Flat Rack + container
How long is guarantee period?
MinJieAdmin
2020-02-19T13:44:01+00:00
Answer: 1 year after finishing installation and commissioning.