Thin-Layer Drying System
Thin-layer drying system for wet material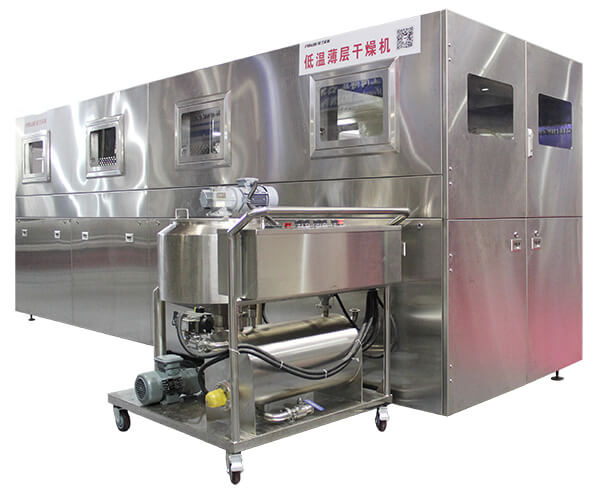 Thin-layer drying system is a new-style low temperature drying equipment which developed by Shanghai Minjie. It adopts low temperature radiation & thin layer drying technology which is called "the fourth generation drying technology" by international drying academic world. Equipment has "high efficiency, high quality, low energy consumption" features.
Thin-layer drying system consist of feed and distributing system, heating and drying system, low temperature air exhausting system, cooling system and discharging system, and the composition principle is shown in the figure.
Thin-layer drying system use recycled heat fluid medium as heating source. Wet material is distributed on the conveyor film, form a thin layer of material. The conveyor film run at a set speed and keep in close fit with the heating liquid. By radiation, the thermal energy of the heating medium is transferred into the wet material through conveyor film, and water of the wet material is heated and evaporated.
During the drying, material's moisture content is gradually reduced till to the end of drying. At the end of the conveyor film, material be cooled though low temperature water. It helps material be removed from the conveyor film and it can reduce temperature's affect to product's quality. By controlling the running speed of the conveyor film, the drying time can be adjusted.
Thin-layer drying system, usually use hot fluid as heating medium (usually water), hot fluid surface be covered with the conveyor film which are made of a special material with poor heat conduction. So, circulating water's thermal energy loss is limited.
Adopting thin layer distribution system, the moisture meet less resistance when escapes. At same time, air draft device be installed at the upper part of heating surface, in this way evaporated moisture can be removed in time, strengthen the dehydration, so even at atmospheric pressure, it can reach a larger evaporation capacity to meet the drying production requirement.
PERFORMANCE FEATURE:
● Heating temperature: 50-95 ℃
● Heating medium: water
● Evaporation capacity: 3-10 kg /㎡h
● Heating area: 6-50 ㎡ optional
● Distribution thickness: 1-5 mm
● Operation control: automatic control
● Product moisture: 3-8% adjustable
CORE TECHNOLOGY
●Low temperature thin layer drying technology
●Raw material thin layer distributing technology
●Conveyor film joint technology
Vacuum Belt Dryer Videos :
Range of application:
| 1. Industries: Food, health care products, agricultural products' processing, pharmaceutical, chemical | 2. Vegetables: pumpkin, carrots, yam, purple yam, tomatoes, purple potato,etc | 3. Fruits and vegetables: papaya, Chinese wolfberry, strawberry, blueberry, raspberry, pineapple, mango, etc | 4. Sugar: pullulan polysaccharide, β glucan,etc |
| --- | --- | --- | --- |
| 5. Chemical material: PVP, xanthan gum,etc | 6. Aquatic products and algae: kelp, blue-green algae, durum,etc | | |
Advantage:
▪ Bespoke engineered continuous drying solution to fit your requirements
▪ Continuous and gentle drying preserving maximum colour, flavour and composition, and minimal oxidation
▪ Individual temperature zones allow for product-specific profiles to be developed suited to each perfectly to each product
▪ Less energy used than other drying methods
▪ Viewing windows as standard allow for continuous monitoring, with options for automated monitoring systems available
▪ Product specific feeding and discharging systems
▪ Fully PLC automated operation & CIP cleaning system
▪ GMP standards
Vacuum Belt Dryer Work Flow :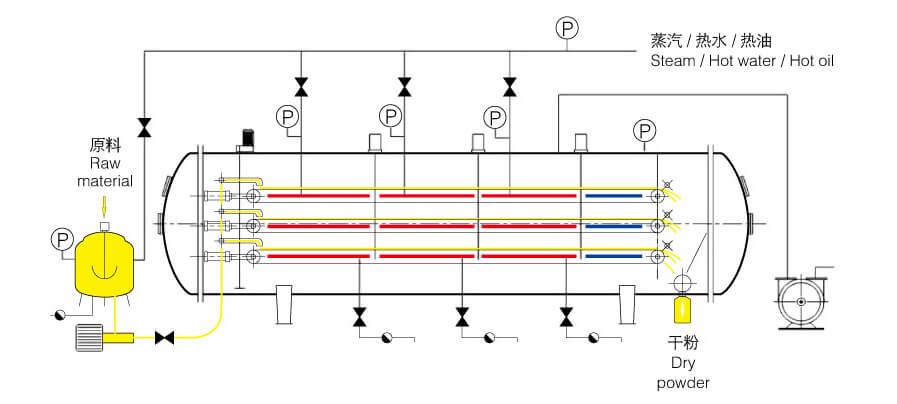 Equipment Specification :
| | | | | |
| --- | --- | --- | --- | --- |
| Model | Heat-exchange area | Heating zone | Outline Dimension(L*W*L)(m) | evaporation capacity for reference(kg/ m2h) |
| MJBCD-6 | 6 | 1 | 6.72×2.1×2 | 15-30 |
| MJBCD-12 | 12 | 2 | 10.83×2.1×2 | 30-60 |
| MJBCD-18 | 18 | 3 | 14.93×2.1×2 | 40-100 |
| MJBCD-24 | 24 | 4 | 19.03×2.1×2 | 50-120 |
| MJBCD-30 | 30 | 5 | 23.13×2.1×2 | 70-150 |
A company specialized in research, manufacturing, sales of pharmaceutical, foodstuff, chemical and biotechnology machinery.
The

first

factory in China to produce Vacuum Belt Dryer(VBD)
Developed the

first

set of Energy-saving Evaporator in China

20

years experience in VBD and Evaporator Solution production line
Rich experience in overseas export and service (over

500

cooperative partners)
Win large market (over

600

sets Minjie series VBD around the world)
Supply ability is more than

100

sets VBD per year
Has a professional technical R&D team,specialized in researching and developing advanced evaporator and drying equipment
Own many patents and authentication certificates for VBD and Evaporator
Excellent quality of the products
GMP standards
Technical support After-sales Service Provided (Installation instructions, Commissioning, Training)
Could I have some information about your scope of business?
MinJieAdmin
2020-02-19T13:39:00+00:00
Answer:  Minjie engages in research, manufacturing and sales of advanced drying equipment (vacuum belt dryer & thin-layer drying system), low temperature vacuum evaporator and sterilization equipment.
Utility supplied by buyer
MinJieAdmin
2020-02-19T13:41:47+00:00
Answer: Steam, industrial electricity, water, compressed air.
What is the cleaning way of equipment?
MinJieAdmin
2020-02-19T13:42:13+00:00
Answer: CIP cleaning system, automatically and continuously.
What is the after-sales service type?
MinJieAdmin
2020-02-19T13:42:43+00:00
Answer: 24-hour service hotline is available. Engineers onsite to guide installation, commissioning and training.
What is the delivery time?
MinJieAdmin
2020-02-19T13:43:12+00:00
How to ship the equipment?
MinJieAdmin
2020-02-19T13:43:38+00:00
Answer: Flat Rack + container
How long is guarantee period?
MinJieAdmin
2020-02-19T13:44:01+00:00
Answer: 1 year after finishing installation and commissioning.