Vacuum Low Temperature Evaporator
Vacuum Concentrator Low Temperature Evaporator for Thin and Heat-sensitive liquid material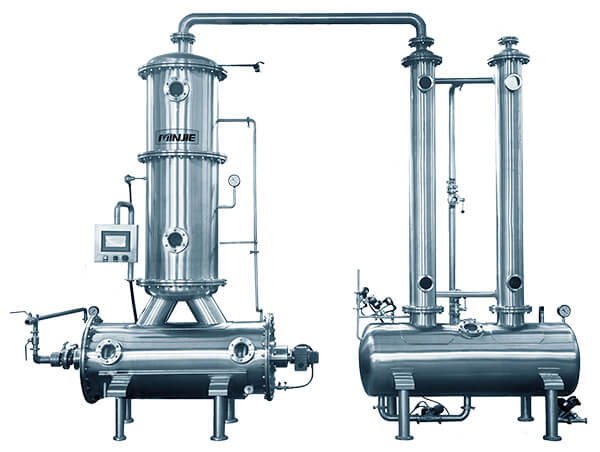 Vacuum low temperature evaporator is new concentrating equipment developed by our company. It realizes low temperature evaporation through high vacuum degree. There is a spinning roller inside the evaporator. Hot water is used to heat the bottom of the evaporator and the spinning roller. Continuous spinning of the roller increases evaporation area and speed, resulting in thin film evaporation. By continuous contact with the surface of the spinning roller, the raw thin material is heated to evaporate.
From feed to discharge, the whole concentration process is continuous under vacuum state. Vacuum low temperature evaporator conquers many problems met by traditional evaporator, such as, high concentrating temperature, long concentrating time, denaturation of raw material, easy scale formation during concentration, poor fluidity after concentration and no further concentration. Because of the low evaporation temperature in our equipment, active ingredients of the raw material are kept.
Vacuum Belt Dryer Videos :
Range of application:
| 1. Fruit juice | 2. Milk Products | 3. Instant coffee and instant tea | 4. Chinese Traditional Medicine |
| --- | --- | --- | --- |
| 5. Fermentation Broth | 6. Lactic acid bacteria | 7. Protease | 8. Plant extract |
| 9. Biological products | | | |
Advantage:
▪ Bespoke engineered continuous drying solution to fit your requirements
▪ Continuous and gentle drying preserving maximum colour, flavour and composition, and minimal oxidation
▪ Individual temperature zones allow for product-specific profiles to be developed suited to each perfectly to each product
▪ Less energy used than other drying methods
▪ Viewing windows as standard allow for continuous monitoring, with options for automated monitoring systems available
▪ Product specific feeding and discharging systems
▪ Fully PLC automated operation & CIP cleaning system
▪ GMP standards
Vacuum Belt Dryer Work Flow :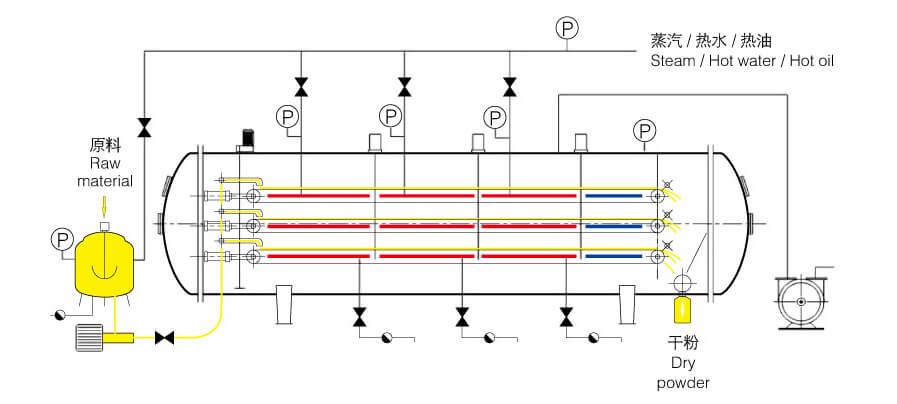 Equipment Specification :
Model
Heating area
Evaporation

capacity

Vacuum degree
Heating

media

Evaporation

temperature

Density before

concentration

Main dryer power
Weight
Outline

dimension

㎡
kg/h
MPa
℃
kw
kg
m
MJ-NS-3
3
60-100
-0.098
Hot water
20-50

Adjustable

With fluidity, density not

restricted

3.9
3500
3.8×1×3.6
MJ-NS-5
5
150-200
5.2
3500
5.2×1×4.2
MJ-NS-10
10
300-400
6
4500
6.5×1.2×4.2
MJ-NS-15
15
500-600
8.5
4500
6.5×1.2×4.5
MJ-NS-20
20
600-800
11
5000
6.5×1.4×4.6
The power consumption listed above do not include the vacuum units、water chilling unit、hot water pump.
A company specialized in research, manufacturing, sales of pharmaceutical, foodstuff, chemical and biotechnology machinery.
The

first

factory in China to produce Vacuum Belt Dryer(VBD)
Developed the

first

set of Energy-saving Evaporator in China

20

years experience in VBD and Evaporator Solution production line
Rich experience in overseas export and service (over

500

cooperative partners)
Win large market (over

600

sets Minjie series VBD around the world)
Supply ability is more than

100

sets VBD per year
Has a professional technical R&D team,specialized in researching and developing advanced evaporator and drying equipment
Own many patents and authentication certificates for VBD and Evaporator
Excellent quality of the products
GMP standards
Technical support After-sales Service Provided (Installation instructions, Commissioning, Training)
Could I have some information about your scope of business?
MinJieAdmin
2020-02-19T13:39:00+00:00
Answer:  Minjie engages in research, manufacturing and sales of advanced drying equipment (vacuum belt dryer & thin-layer drying system), low temperature vacuum evaporator and sterilization equipment.
Utility supplied by buyer
MinJieAdmin
2020-02-19T13:41:47+00:00
Answer: Steam, industrial electricity, water, compressed air.
What is the cleaning way of equipment?
MinJieAdmin
2020-02-19T13:42:13+00:00
Answer: CIP cleaning system, automatically and continuously.
What is the after-sales service type?
MinJieAdmin
2020-02-19T13:42:43+00:00
Answer: 24-hour service hotline is available. Engineers onsite to guide installation, commissioning and training.
What is the delivery time?
MinJieAdmin
2020-02-19T13:43:12+00:00
How to ship the equipment?
MinJieAdmin
2020-02-19T13:43:38+00:00
Answer: Flat Rack + container
How long is guarantee period?
MinJieAdmin
2020-02-19T13:44:01+00:00
Answer: 1 year after finishing installation and commissioning.