ENERGY-EFFICIENT EVAPORATOR
With the deepening of China's economic transformation, intelligent, energy saving, environmental protection and safety have been the direction of future equipment development. At present, coal-fired boilers are gradually shut down in China, while enterprise operation costs increase rapidly due to the continuous rising of unit steam production cost of natural gas and biomass boilers. At the same time, the wide application of wind and photo voltaic power generation technology have led to the sufficient supply and comparatively lower price of electricity. The traditional evaporation and concentration equipment in the market needs not only heat source for heating, but also cold source for cooling. It has obvious disadvantages of two-way energy consumption, high unit energy cost and high solvent consumption. Because the heat source temperature is high, it is destructive especially to heat sensitive materials. Although the existing MVR evaporating unit has reduced energy consumption in operation to some extent, it has potential dangers in terms of organic solvent recovery due to the contact between flammable and explosive gas solvent and high-speed compressor impeller, and the site installation and maintenance is rather complicated, covering a large area and inconvenient to operate. In view of the current situation of domestic evaporation and concentration equipment, in order to meet the updating requirements of users, our company has developed this set of Vacuum low temperature evaporator with characteristics of intelligent, energy-saving, safe and environmental protection.
WORKING  PRINCIPLE
Referring to the refrigeration principle, the energy-carrying medium completes the continuous cycle of gas→liquid→ gas in the closed circulation system. During the phase change process, the medium realizes heat release and heat absorption. The heat released is used for the heating and evaporation of the material liquid, while the heat absorbed comes from the condensation heat of the secondary steam generated by the evaporation of the material liquid. The liquid concentration, solvent evaporation and solvent recovery can be realized through the use of both hot and cold energy.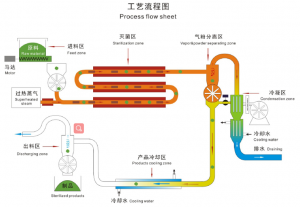 APPLICATION  SCOPE
The equipment is widely used in the dehydration process of pharmaceutical, food, chemical, biological, environmental protection and other industries, and it is more suitable for the evaporation and concentration of organic solvents (mainly used in flammable and explosive category), such as methanol, ethanol, ethyl acetate, acetone, n-hexane solution and other organic solvents; It can also be used for evaporation and concentration of water solution.
EQUIPMENT  ADVANTAGE
Little preheating of industrial steam is required at starts up (replaceable by electric heating). Pure electric heating and evaporation can be realized because no steam is needed during normal operation;
The whole process operating temperature is 45-65°C. The evaporation temperature can be adjusted at any time according to different material properties. Furthermore, the heating source is lower than 80°C, therefore it is particularly suitable for the evaporation and concentration of thermal sensitive material.
The equipment adopts PLC automatic control, it has characteristics of high degree of automation, low labor intensity, automatic feed and discharge, automatic detection and control of density, automatic control of evaporation temperature and vacuum degree as well as other intelligent works;
The equipment adopts modular design and assembly. It accomplishes commissioning before leaving the plant and can operates as soon as it interconnected with the auxiliary equipment of users.
The equipment has high operation safety. The compressor in the device compresses not gas solvent but heat exchange medium, which completely avoids potential safety hazards. In addition, it has complete electrical explosion-proof design.
Performance comparison of energy-efficient evaporator and traditional steam evaporator
Item
Single effect Evaporator
SDR Efficient and energy-saving evaporator
Water solution
Ethanol solution
Water solution
Ethanol solution
Gas consumption(kg/h)
1200kg
750
30 (preheating material)
30 (preheating material)
Cooling water consumption (t/h)
45
70
13
13
Total power (Kw/h)
12
12
75
50
Operation cost (yuan/1000L)
350
240
90
65
Operation cost of each shift (8hours/shift)
2800
1920
720
520
Annual operating cost

(ten thousand yuan)

70
48
18
13
Note: Steam is 270 yuan/ton, annual production date is 250 days, cooling water is 0.3 yuan/ton, electricity is 1 yuan/KWH.  The larger the evaporation type of the equipment, the lower the relative unit cost.
EQUIPMENT  SPECIFICATION
Item

Model

Ethanol evaporation(L/h)
Total Power Kw
Heating Power KW/h
Evaporating Temperature (°C)
Vacuum Degree (MPa)
Dimension (mm)
Weight

(T)

L
W
H
SDR-1000
1000

(Water:600L)

98
75
42-65
-0.05~-0.09
5000
2700
4000
9.5
SDR-2000
2000

(Water:1200L)

152
115
42-65
-0.05~-0.09
5500
2700
4200
12.2
SDR-3000
3000

(Water:1800L)

185
130
42-65
-0.05~-0.09
6200
2700
4300
14.8
SDR-5000
5000

(Water:3000L)

268
225
42-65
-0.05~-0.09
7300
2700
4300
19.6
Note: The evaporation temperature and heating temperature can be adjusted according to the technological requirements of the materials. The low evaporation temperature may affect the evaporation capacity of the equipment.